specialist clothing
from design to action
Special clothing AURUM EX NEW
Special clothing AURUM EX NEW
The garment consists of two parts: jacket and heavy trousers according to PN EN 469 (AURUM EX NEW special clothing)
Purpose:
The AURUM EX NEW suit is intended for use in general fire fighting and related activities, such as rescue work, disaster relief. The clothing provides protection against flame, water and heat
ADVANTAGES OF THE AURUM EX NEW CLOTHING:
The design ensures good ergonomics of movements and comfort of work.
Lock with an emergency opening system, the so-called anti-panic.
Reinforcements made of aramid fabric with silicone-carbon coating.
The elements made of metal are covered
Perforated tapes 50 and 75 mm wide
Optional: System for mounting a rescue loop.
Optional: additional reflections made of silver tape on the shoulders
Material composition of AURUM EX NEW:
– EXTERNAL FABRIC: ADAS  195 g/m2, 75% Meta Aramid 23% Para Aramid 2% Antistatic
Color variants: yellow (shade of natural aramid), black, dark blue, red.
– MEMBRANE:  ePTFE -70% Meta-Aramid, 30 % Para-Aramid
– THERMAL INSULATION LAYER: non-woven fabric -70% Meta-Aramid, 30 % Para Aramid + lining – 50% Aramid 50% Viscose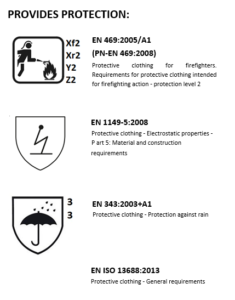 The garment has:
EU-TYPE-EXAMINATION CERTIFICATE