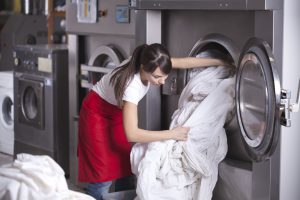 In order to comprehensively service to our Clients, we have expanded our offer of enzymatic and water washing services as well as refinement of textile products including impregnation and decatization.
We have a modern laundry and dry room and qualified staff, therefore we can meet your expectations.
In addition, we also offer a service of repair and regeneration of garments, such as replacement of reflective tapes, zippers, snap buttons, etc. This offer is aimed at customers who, because of limited budget, cannot afford to buy new uniforms, but have garments whose wear condition, after using appropriate restorative treatments, with low financial costs, will allow to continue using them.
We provide those services for garments purchased in our company as well as for garments of other manufacturers.
A detailed offer in this matter we can submit after receiving an individual inquiry.